Home Page › BB Sarah › Best Natural Treatment for Baby Eczema and Rashes
You're reading this because you want to know what is the best natural treatment for baby eczema, am I right? Does it even exist? Well, it most certainly does and it's called the Jo Lauren Baby Miracle Balm. Read on and see why!
To demonstrate the faith I have in my own product, I defied my own advice; instead of plain water, I used baby shampoo to bath Sarah. I did it ONLY because I wanted to trigger an eczema flareup for Sarah. If not, I'm an advocate for water. 100% water.
For the record, I know how to manage an eczema flareup in a newborn, which I will teach you later. So in the meantime, don't call child services on me!
I did this "case study" for the greater good of all mummies, struggling with a baby that has sensitive skin or a weakened skin barrier. But it's hard to tell if your baby has sensitive skin. Why? Because all babies are born with baby smooth skin like their tuushis, something like this.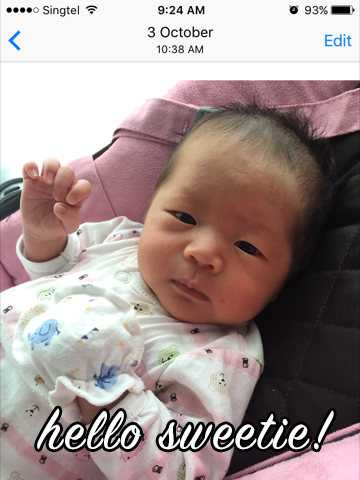 This was Sarah when she was about 2.5 weeks.
And Sarah at about a month old.
She's a lil cheeky one!
And I'm guessing, you're reading this post because you're feeling desperate. I'm assuming your baby's skin used to look like Sarah; but has gone from that, to this: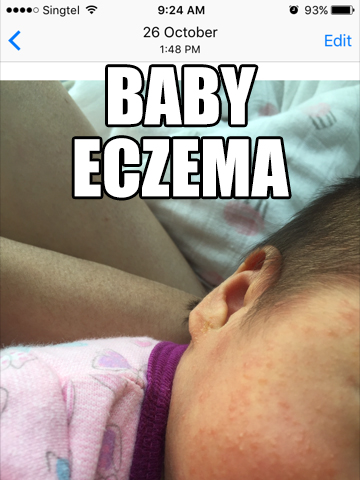 Notice how I'm including the time and date stamps of the photos? This is real, yo!
For authenticity's sake, I took all these photos with my iPhone, sans Photoshop! I am here, telling you that I know what you're going through mummy! And you're about to find out why the best natural treatment for baby eczema and rashes is our bestselling Miracle Balm. Follow me through as I show you how long the recovery takes, and what the healing process looks like.
Long story short, Sarah had no skin issues as I was bathing her in plain water from the beginning. And that, is truly the way you should take care of a newborn's skin. Just use water. I know I'm nagging, but I can't emphasize on this more.
But then, I thought, why not I try and see if Sarah (sorry 宝贝, know that you have done a great, great deed to help many other babies ok?) has the same hypersensitive skin as her Jiejie Lauren? We all know how Jo Lauren started right, if you don't, read about it HERE.
So I got online, bought and used a popular organic brand baby shampoo that, unfortunately/fortunately, triggered Sarah's baby eczema. It was deja vu, once again, I had a baby with eczema rashes on her face. Sigh. And it starts off pretty innocently, just a little redness and spots here and there. Nothing too freaky Friday. Yet.
Both Lauren and Sarah have skin that is unlike Joshua, my #2, whom has enviably fair and smooth skin, wayyyyy too 白白嫩嫩 for a boy la!
So really, every child is different, even within the same family. To be honest, at this point, I panicked a little as Sarah's flareups got worse and worse. But when eczema sets in like this, even stopping the bath product and using plain water, doesn't make the rashes go away. So how? Thank the Lord Jesus for blessing me with the Miracle Balm. And because I am blessed, I am dedicated to fighting this cause!
Anyway, you may be wondering why did I use an organic brand instead of J&J? That is because we tend to assume organic products are better, but the fact remains that not all organic products are suitable for babies with sensitive skin. In fact, you want to know what's the best product for sensitive skin babies?
Water. H2O. 水. Haha. I'm sounding like a broken record. But seriously, just use water. Until they're at least 18 months.
But I know, we concrete jungle mummies have the inane obsession with using products to "clean" our babies when they are not even dirty. Why oh why? Do our babies grovel in mud all day long? I don't think so!
So fine, what's done is done, I get it. You didn't know you should be using only water and now, your baby has full blown lobster-red eczema rashes on her face. Only problem is, even if you stopped the products and just used water, the eczema doesn't just go away. Why? Because her skin barrier has been weakened. Damaged.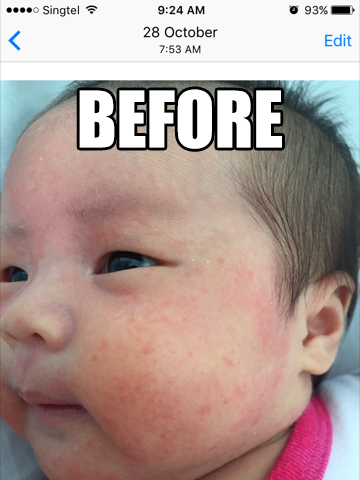 Just in case you're screaming, "But I didn't use the product on my baby's face! I only use water on his/her face ma!" You don't have to be using the bath products on her face, for her face to have rashes. For Sarah, I only used the bath shampoo on her body, water on her face, and YET, the eczema appeared on her cheeks. That is how it all begins, don't ask me why.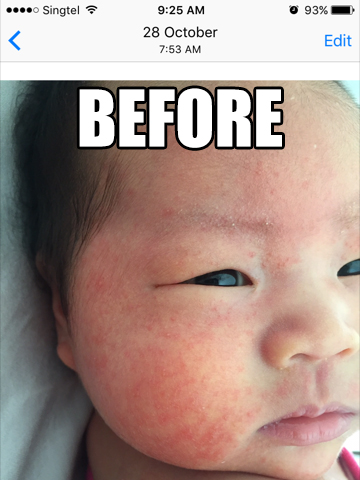 And if allowed to continue, the eczema would spread to her body and limbs. So, when it got to this point, I couldn't take it anymore so I stopped the bath product and just used water. And I cleaned her face daily with a damp cotton ball, and applied a thin layer of the Miracle Balm on her face, every nappy change. So that's applying the Miracle Balm on her face, 5-6 times per day. And this was 4 days after.
I know what you're thinking, "Hur? Got improve meh?" Haha. Wait la!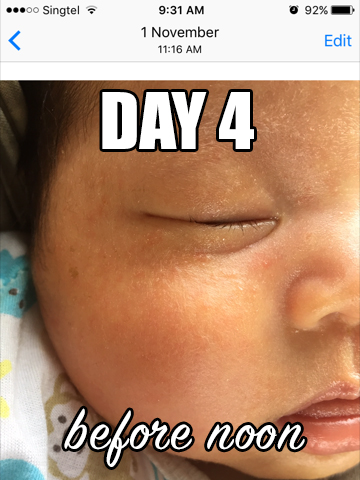 Notice how much difference it makes in just a few hours? 7am vs 11am? Eczema usually flares in the early morning, possibly due to an entire night of sleeping in a dry A/C room. And hunger. The rashes get really red and angry but notice how her skin is already smooth by afternoon? So don't be discouraged, keep going!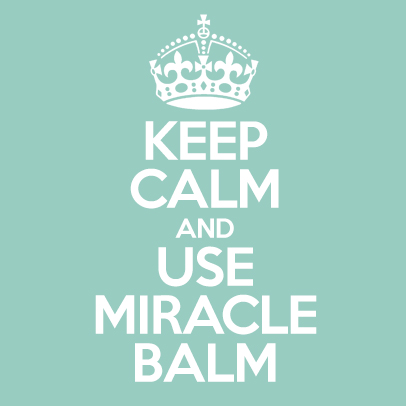 It even rhymes!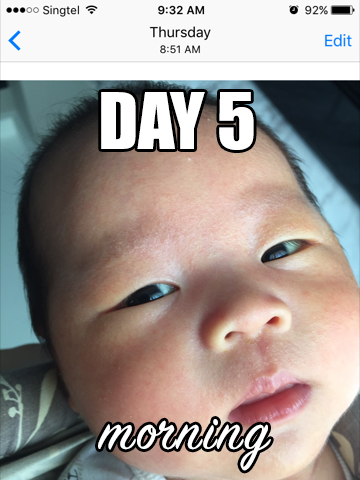 And this is 5 days later. Skin looking really clear in the morning, after applying the balm about 2 hours after she woke up.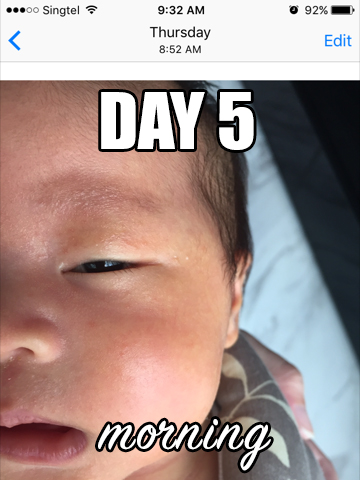 But there WILL surely still be flareups, although it will never get to as bad as before. And it calms down easily once the Miracle Balm is applied. So even as skin heals, expect something like this.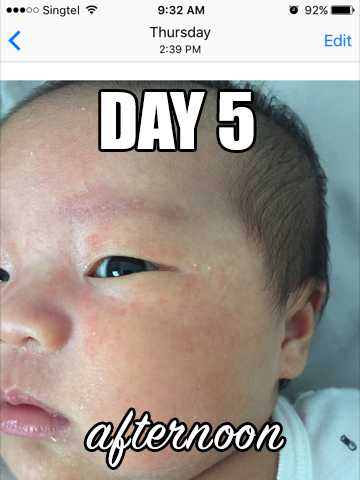 This was just 3 hours after! It can be due to heat as eczema tends to flare in the afternoon when it's warmer. Or it could really just be that Lil Ms Eczema is being a pain and not wanting to leave so easily. But we will defeat you! Hmph!
And then, after a few days of clear skin, she woke up with a flare again.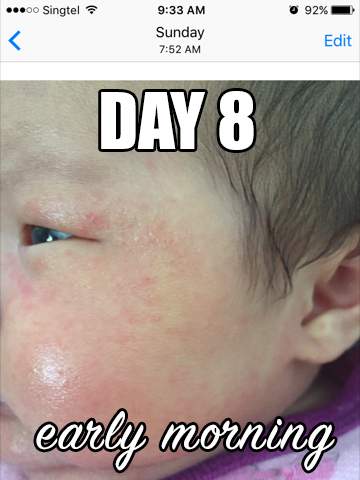 Most likely due to something I ate, but I can't really confirm what it is at this moment cos I eat too much. What do I do when this happens? Apply the Miracle Balm!
After some time, the skin loves the Miracle Balm and is soothed quicker than before. Just half an hour and skin is rosy, not flaring.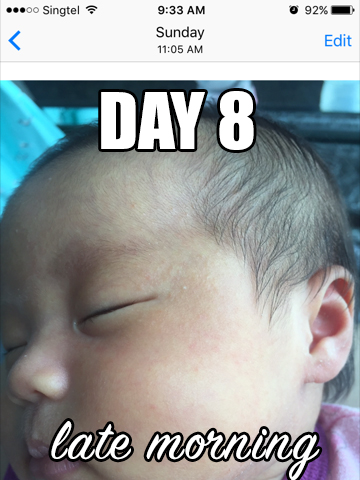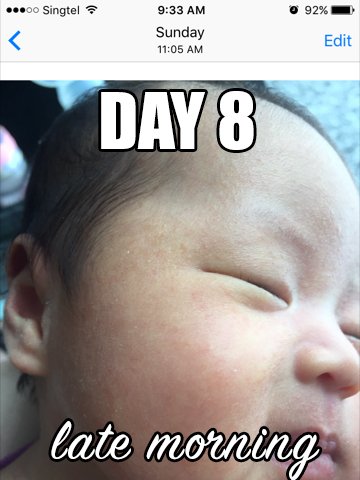 And few hours later, skin is clear as the sky.
At Day 9, her skin is no longer flaring even in the morning.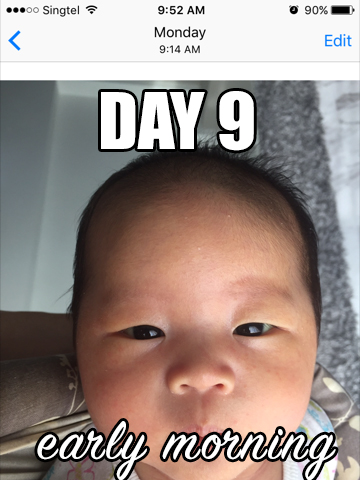 Or in the afternoon.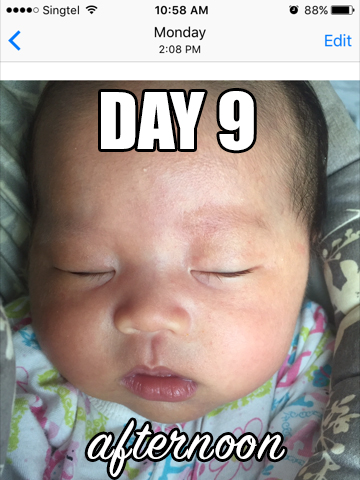 And as of today, it's Day 11. Skin has pretty much calmed down entirely.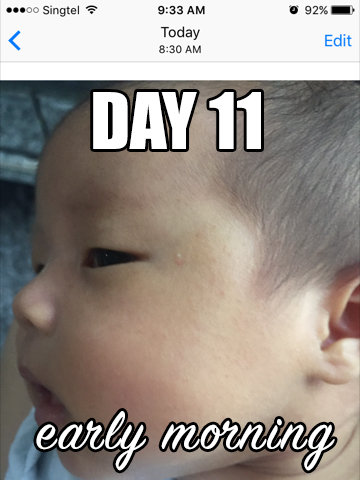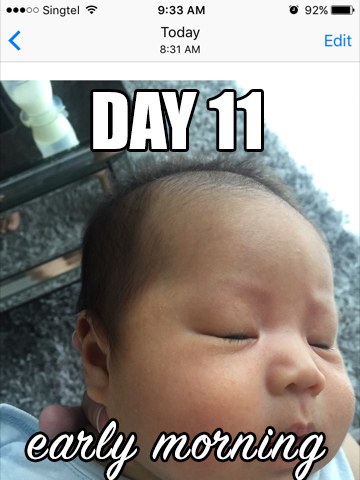 And with this, I hope I've proven my point and you feel encouraged.
If you don't already know, our Miracle Balm is made with 100% food-grade ingredients, *click here to see the 7 natural and organic ingredients it's made of*, you won't see anything you don't understand. Why? Because I'm a mum and I made this for my own babies, so nothing but the best will do.
Unlike steroids, the natural and organic ingredients in the Miracle Balm are very gentle and mild, so it definitely takes a longer time to see results and flareups are to be expected. Don't give up just because the rash comes back! Persevere on, because you're repairing baby's skin barrier with every application of the Miracle Balm.
Steroids work to suppress the eczema rashes, but you're not solving the root cause – which is a weakened or damaged skin barrier. The Miracle Balm doesn't just suppress the rashes from appearing, it heals the skin barrier so it becomes more resilient to external triggers.
The best part of the Miracle Balm? You can apply it x100000, ok you don't have that much time to do that, but you get the drift. There's no limit to how many times you can apply it because it's drug-free and it is totally skin food.
Food-grade ingredients, skin food, geddit? Haha ok lame.
Eventually, the flareups will not only be less severe but less frequent. That's because the skin is healing, and after the skin barrier repairs itself, there will no longer be any flareups at all. Just like in the case of Lauren. Hallelujah!
Just crystal clear and flawless skin.
And you can use it as a moisturizer, everywhere on baby's body? Even as a lip balm!
But hold your horses, I do have a caveat here – The Miracle Balm will not work if the trigger for the eczema is NOT removed. And don't be stubborn about this because the easiest time to clear up eczema is when they're still babies. If your baby turns into a monster toddler, it'd be 100x more difficult to identify the trigger(s).
Not to mention preschoolers and bigger children. By then, I'm honestly not confident at all that my gentle and mild Miracle Balm can help much.
So ya, remember I said I'd teach you how to manage a newborn or baby eczema flareup? Here's my sage advice:
1) If you're using bath products on your baby, stop. STAHP! Just use water, lukewarm. No warm or hot water, just lukewarm.
2) Also, stop all products including massage oils, creams or lotions. Do this for at least a week. Monitor to see if skin calms down, or at least stops flaring and spreading.
3) If skin calms down, you have removed the trigger! Hurrah!
4) However, if you have stopped all topical products and skin is still flaring and rash is spreading, the trigger is most likely in her diet.
5) If so, is she breastfeeding or formula-fed? The most common trigger is milk/dairy, so if mummy is breastfeeding, cut out dairy for a week and see if her skin improves. If formula-fed, consult with your PD for alternatives.
6) Usually, if the trigger is in her diet, she will also get some nappy rash. So take note of that.
7) Baby eczema is usually due to topical products or diet and it's easy to identify the trigger, that is why it is easiest to manage. Other causes may include dust or pet dander so you need to manage that to see if it makes a difference.
8) Once you have removed the trigger, from newborn to 18 months, just stick to water and a good moisturizer until their skin barrier is fully developed. Or else, if you insist on using some bath product, you can consider our Oatmeal Baths. These are gentle enough, even for newborn babies.
9) For a good moisturizer, I would highly recommend *ahem* the Miracle Balm. I know what's inside and I stand by it, and I walk the talk by using it on all my babies.
Most importantly, it works. And I went as far as to trigger a flareup in my very own newborn baby, just to prove it works. That is the level of faith and confidence I have in my own product.
As you can see, it's really easy to manage newborn babies' eczema; identify and remove the trigger, then treat and moisturize with a healing product like our Miracle Balm. You will see results in less than a week!
So if you're looking for the best natural treatment for baby eczema and rashes, please give our Miracle Balm a try. It is after all, tried and tested by yours truly. And you'd be pleased to know, be it nappy rash, drool rash, milk rash or heat rash, the Miracle Balm heals all. Just go through all the reviews of our Miracle Balm and you'd see, we're not the only ones raving about it.
The difference is, now we have pictures so you don't have to use your imagination!
Hope you enjoyed this "before and after" post of ours! If you're giving our Miracle Balm a try, do share and #jolauren your before and after baby eczema pictures on Instagram and Facebook! We would love to see pictures of your precious ones overcoming eczema and we'd be happy to give you a 15% OFF DISCOUNT code for your next purchase*!
Let's fight baby eczema together!
*Terms and conditions apply.
– Promo is only valid for followers of @jolaurenbaby instagram account AND fans of Jo Lauren Facebook page. Please 'LIKE' and 'FOLLOW' us!
– Tagged photo MUST consist of a before photo and after photo, see above examples.
– Discount code will be issued only when tagged photo qualifies as per above requirements
– Customer consents to Jo Lauren using tagged photo for promotional purposes
– Limited to one-time use, per customer only
– Discount code is valid with no minimum spend
– Discount code may only be used on www.jolauren.com and must be entered upon checkout to be effective
– Promotion period is until 31 December 2017
– Jo Lauren Pte Ltd reserves the right to amend these terms and conditions or to cancel this promo at any time