Home Page › BB Sarah › Sweetest Moments Review for Sarah's 1st Party
Hallelujah! Our precious baby Sarah recently turned 100 days old, so we threw her a cosy lil party @ Buzz in the Woods. I'm not sure about you, but my social media feeds are filled with pictures of gorgeous dessert tables; being the typical DIY-er, I took this opportunity to DIY the dessert table for Sarah. I must say, it was really fun putting it all together! The cakes are from Sweetest Moments, as I got both Lauren and Joshie's favors from there previously; I was very impressed with the quality of their cakes and more importantly, their impeccable service and reliability. So fellow mummies looking to DIY your dessert table, here's my Sweetest Moments review and lots of pictures of princess Sarah's 100 days party!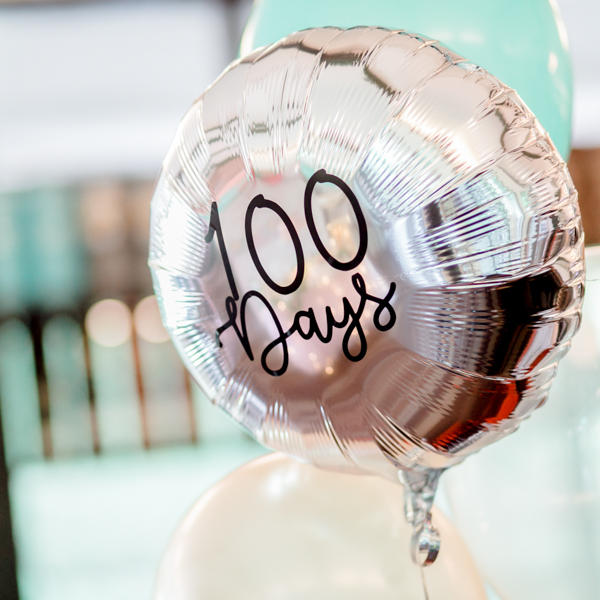 We finally settled on Buzz in the Woods as the party venue, because it's in a central location, serves yummy food, has a spacious interior, and ample parking space! So we arrived early and got down to work, setting up the party decor. If you're looking to DIY, get as much help as possible!
Yup, that's my DIY dessert table. Very pink, very 梦幻 right! Haha! Lauren was mighty pleased with it even though it wasn't even her party, and has since been bugging me for her very own party setup! I've about 2.5 months to DIY her requested rainbow/unicorn/Princess Celestia party. Yikes!
For Sarah's party, I chose an Enchanted Garden Theme, cos it's the simplest to put together. Like hello, I just popped her out 99 days ago. So it was basically floral pinks, and touches of green and mint. Here's a closer look at the banner I DIY-ed for Sarah.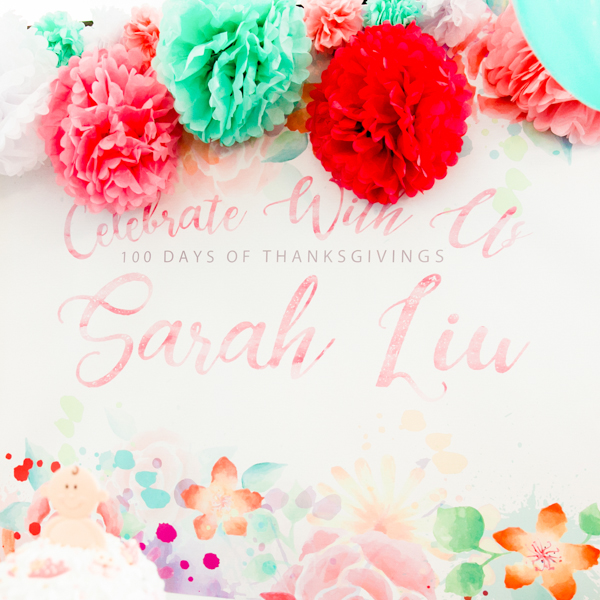 I picked out the cakes and pastries from Sweetest Moments, and they were mostly pastel pink with some mint, to fit in my theme. The result was perfect!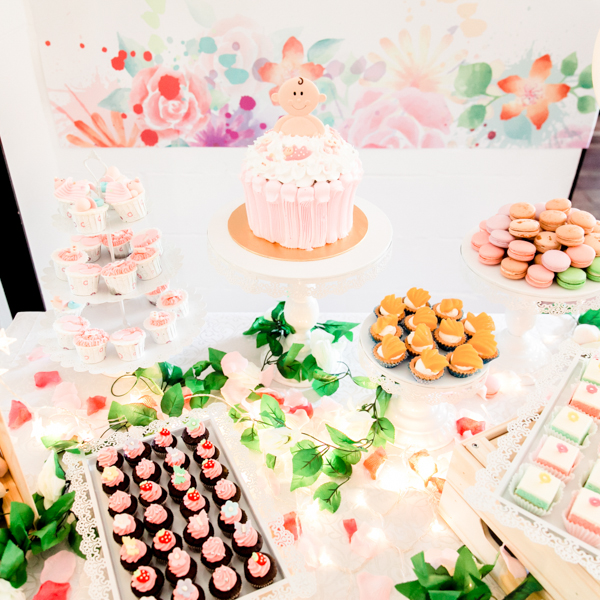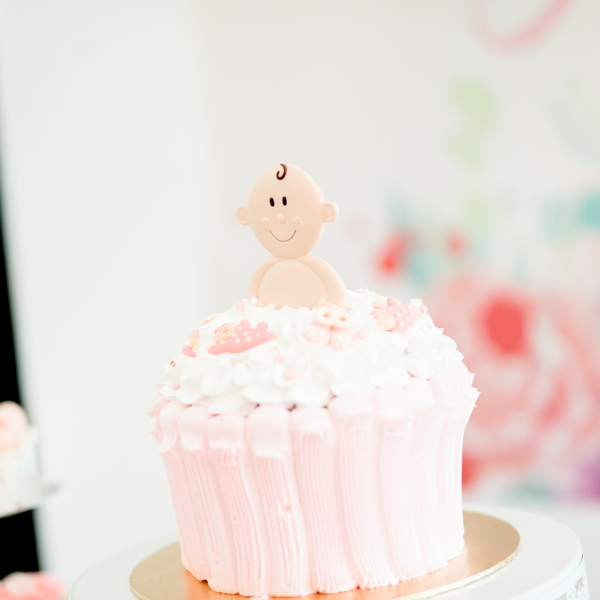 The fondant details in sweet pastel pink hues are really gorgeous! I especially love the pastel cubes and mini cupcakes! So light, yet moist and tasty!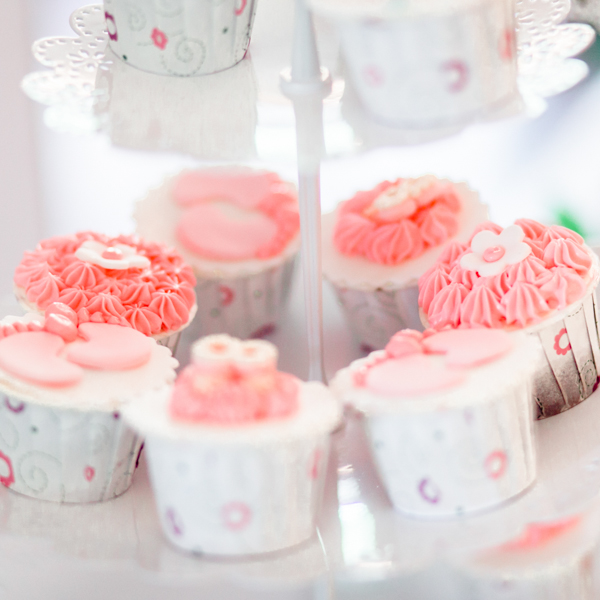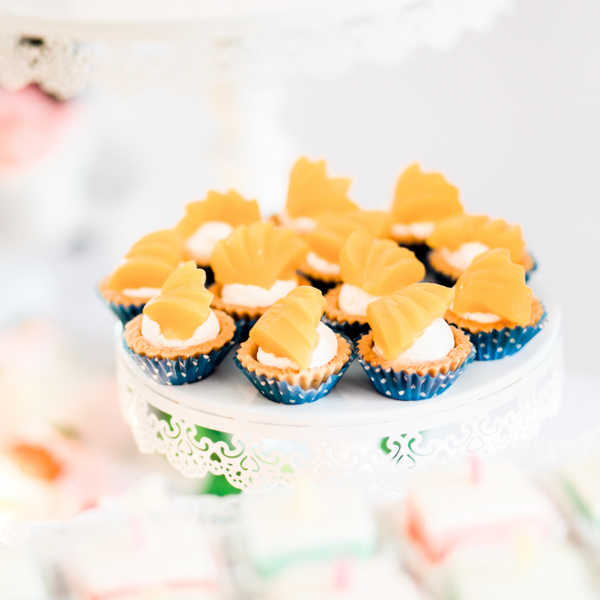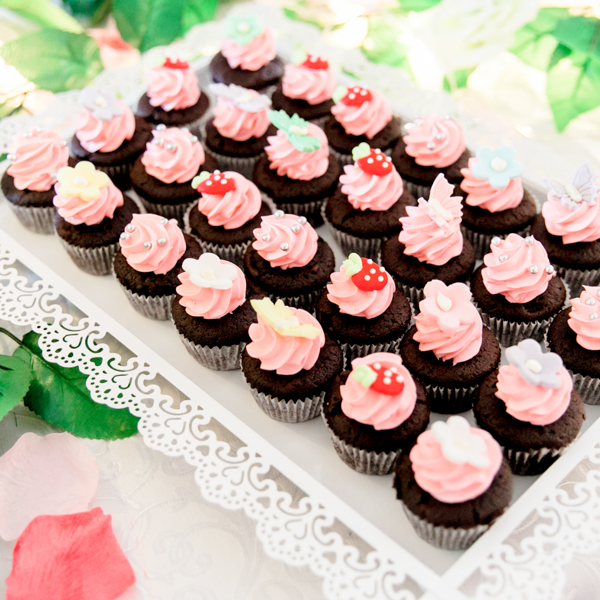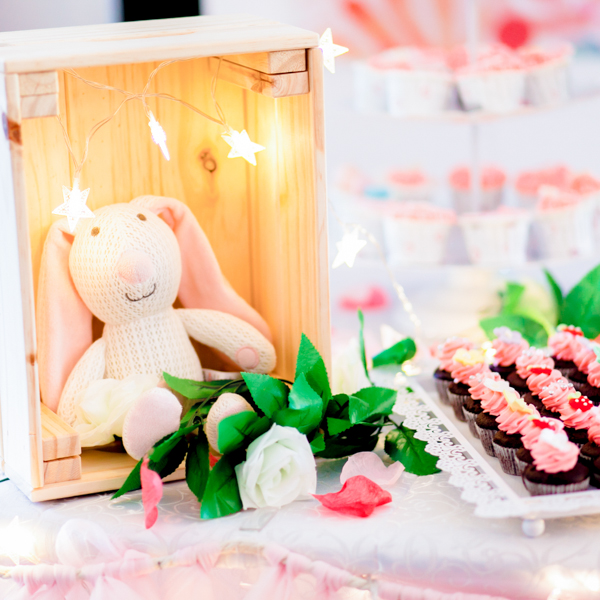 As Sweetest Moments don't do macarons, I got my macarons off a kiosk in Hillion Mall for real cheap! Like $1 for one or something.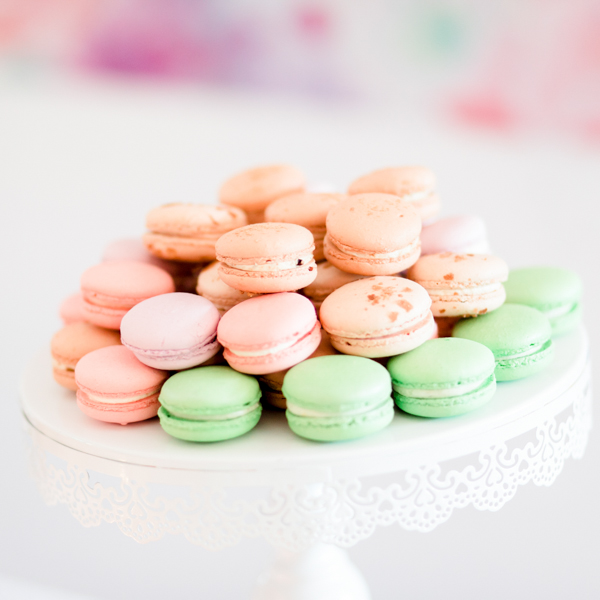 So after the dessert table was set up, we quickly arranged the favors. And I really love these favor tins!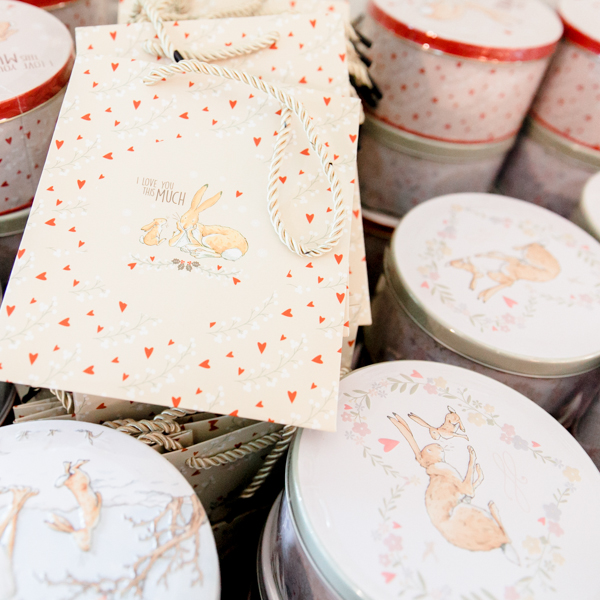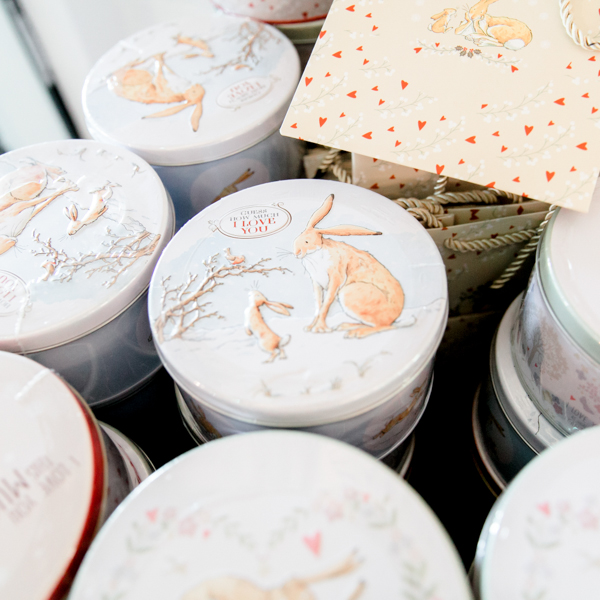 My favourite board book is definitely "Guess How Much I Love You"; I always get teary-eyed when I read the last line, "I love you to the moon… And back." Cos mummy hormones are all over the place, and I seriously love my kids to the moon and back! And maybe back to the moon again, and again…
Anyway!
Here's our lead character for the party, our baby princess Sarah sleeping before the party starts; every princess needs her beauty sleep!
So while my bro and sis-in-law were busy helping me set up the decor, their 2 boys, Lucas and Linus, were busy sneaking cupcakes into their little bellies. How do I know?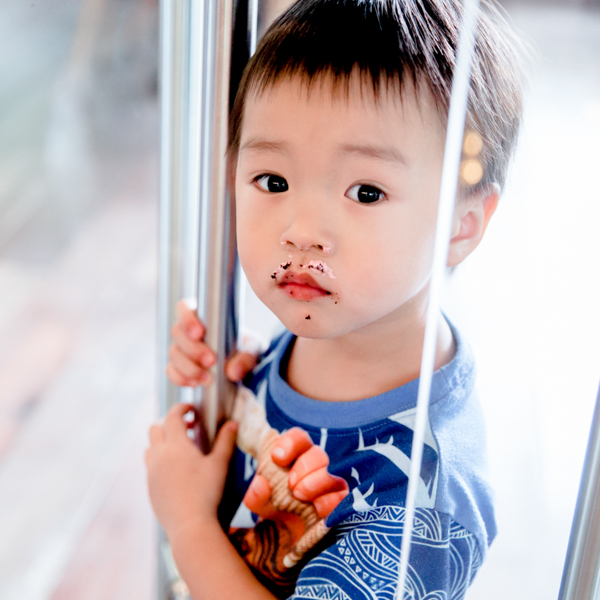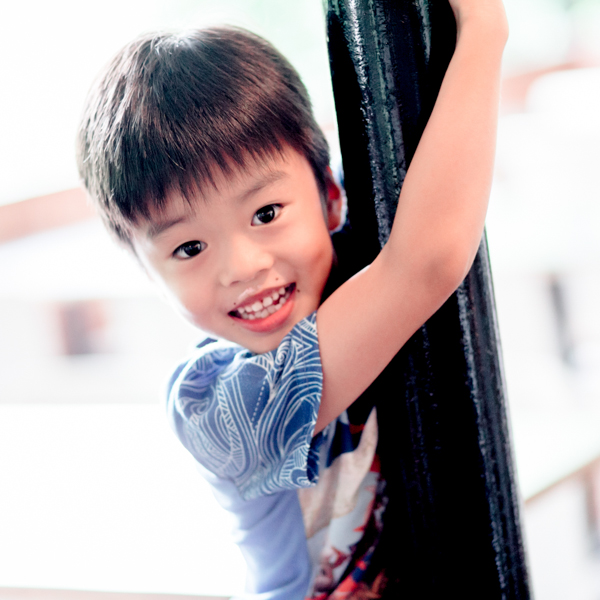 A little buttercream mustache anyone? 偷吃忘记抹嘴!
And right before the guests arrived, we took the customary family photo.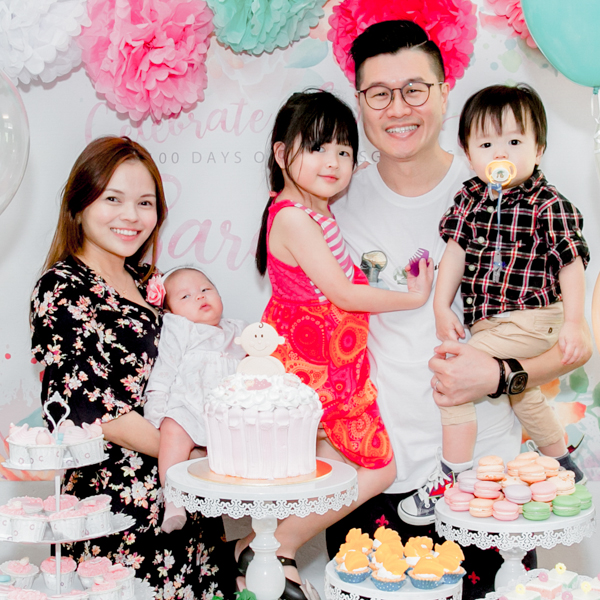 No surprises there, although Sarah totally nailed the #outofbed look.
And while the kids ate, our guests started streaming in and it was just busy busy entertaining!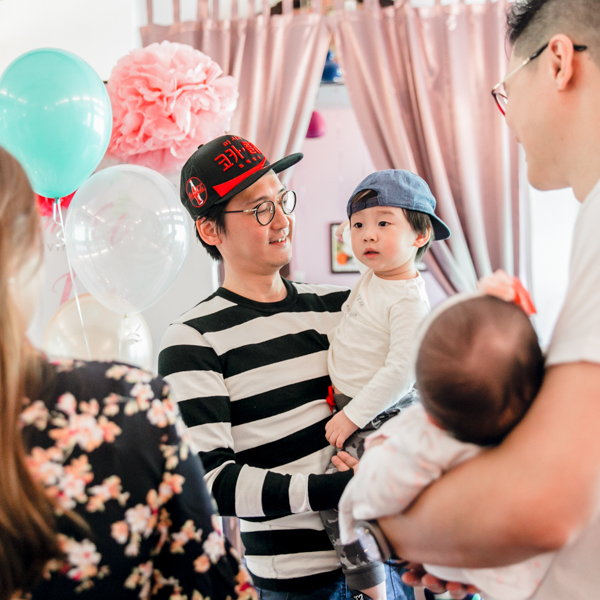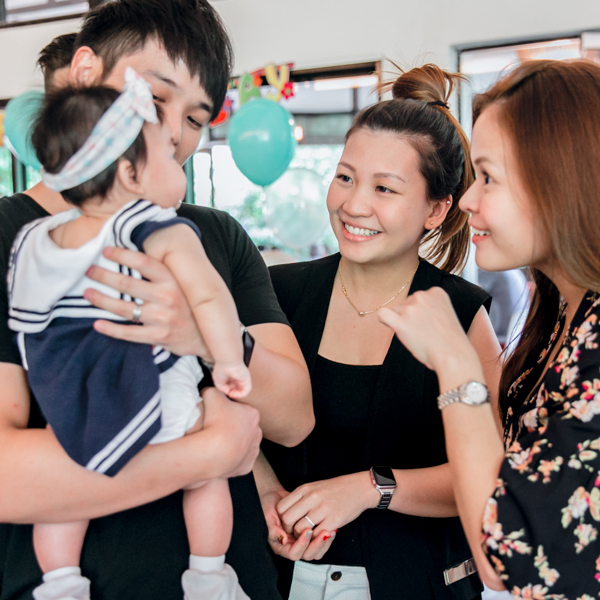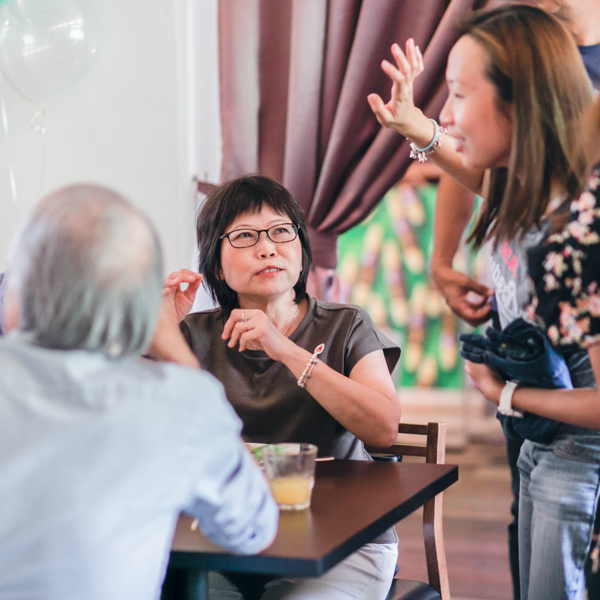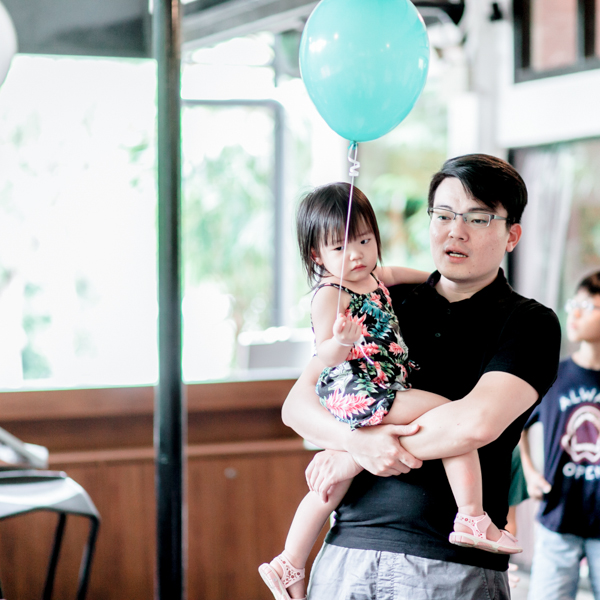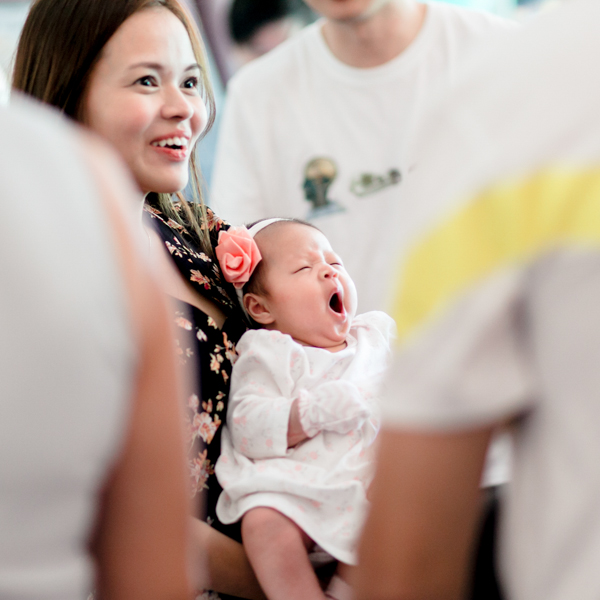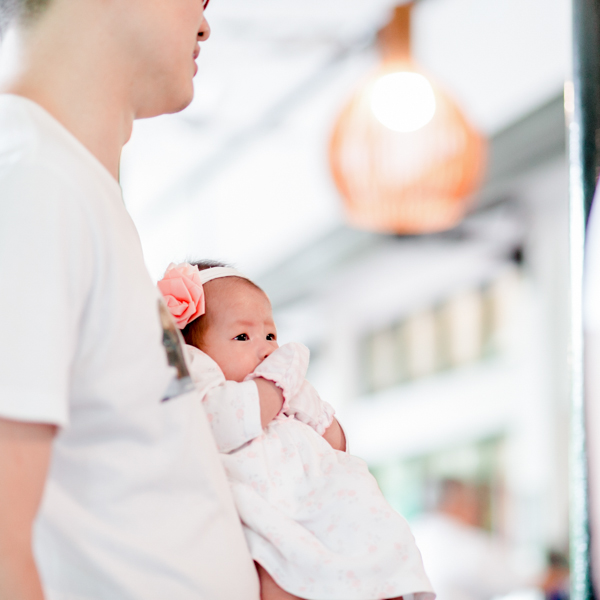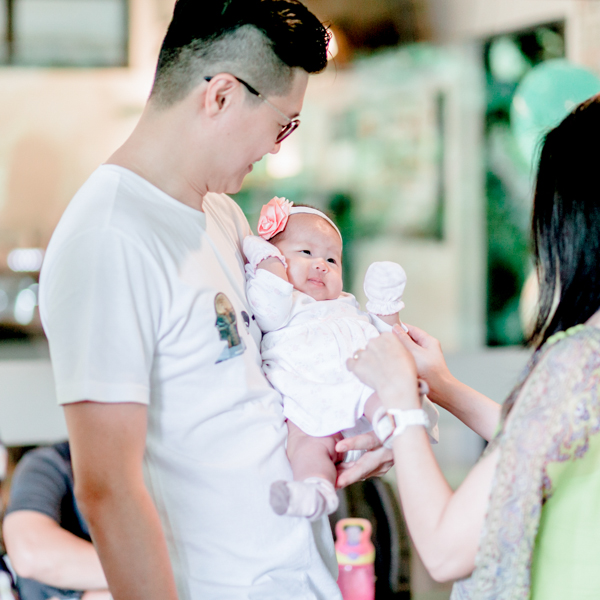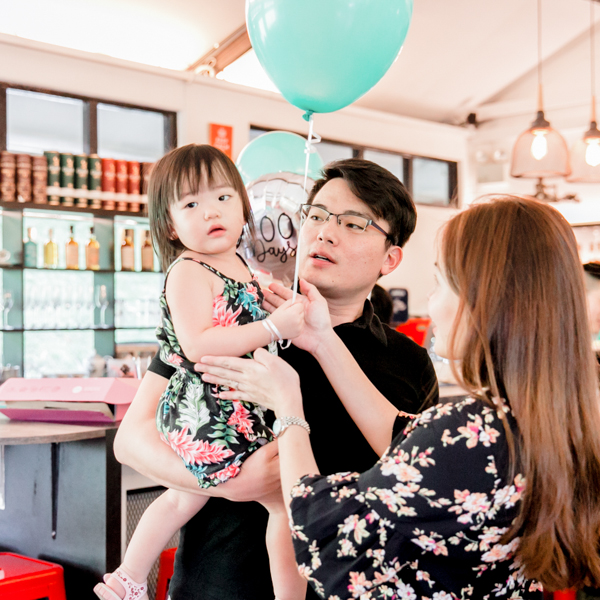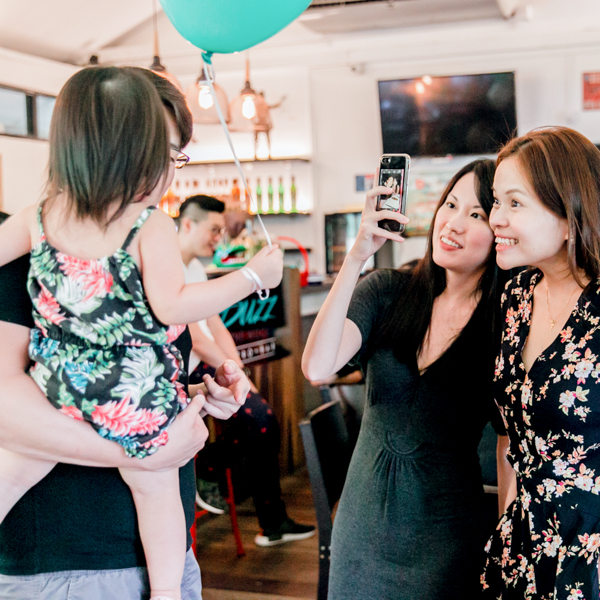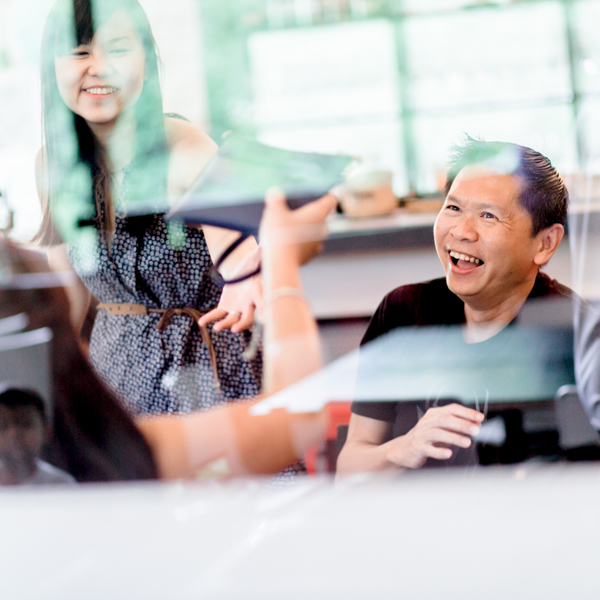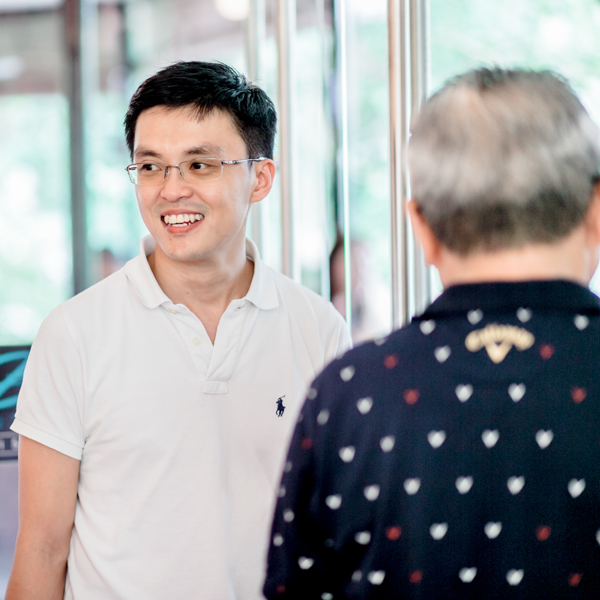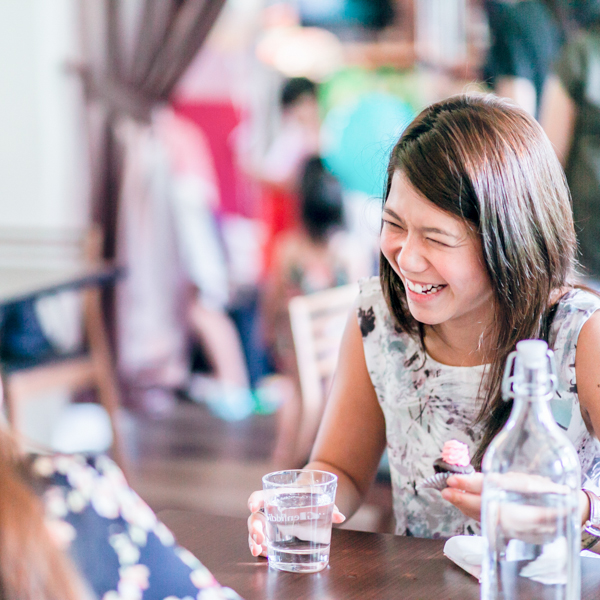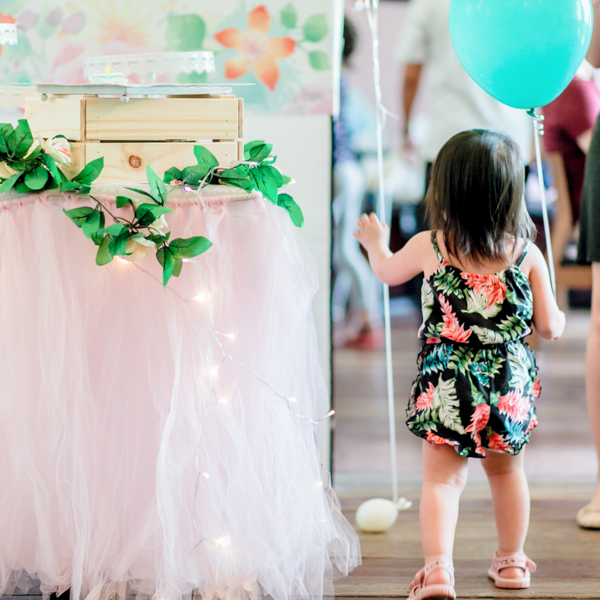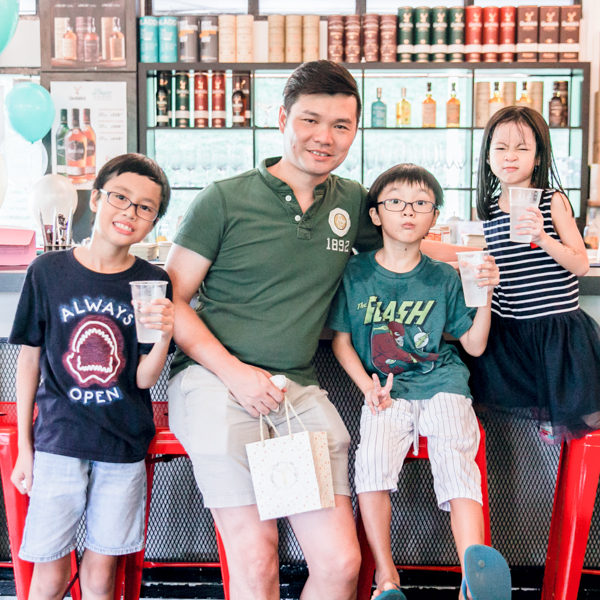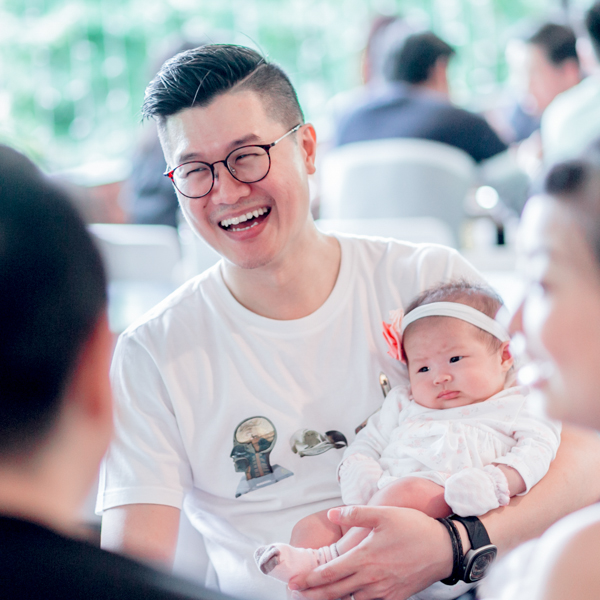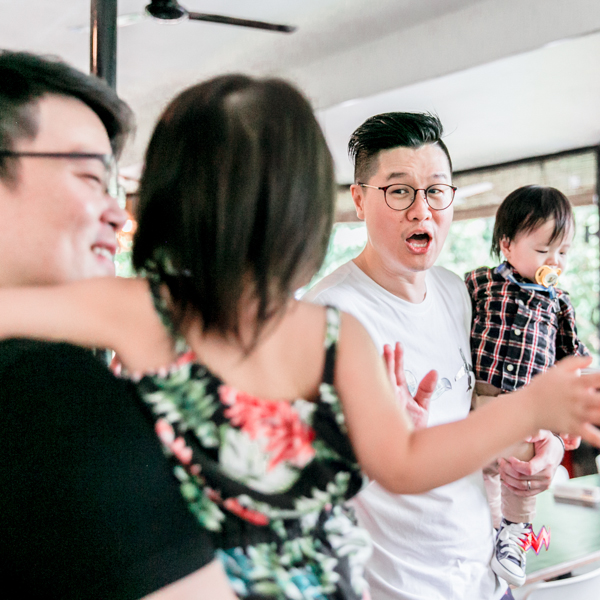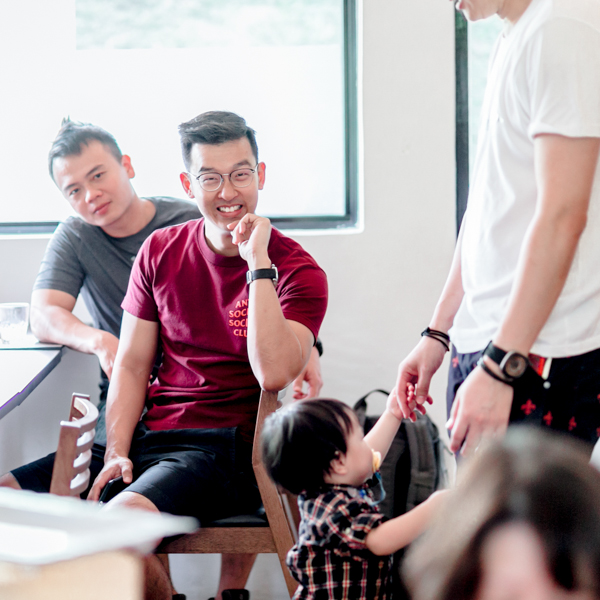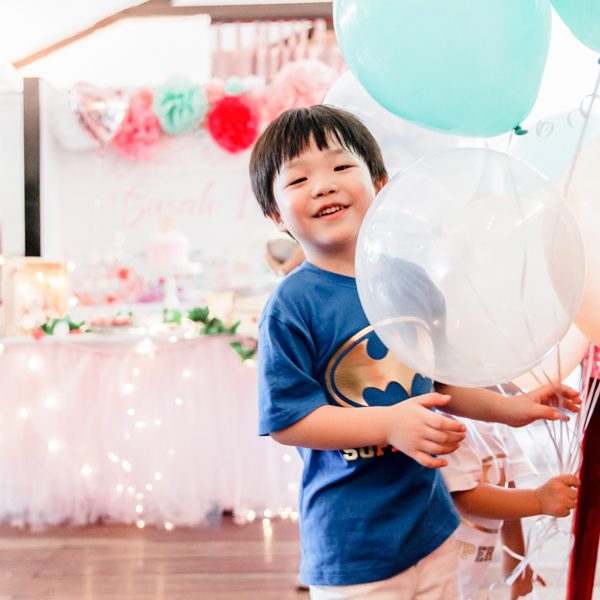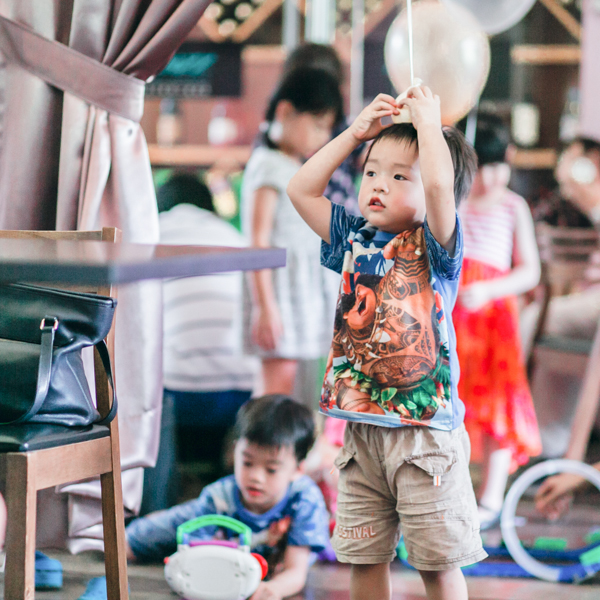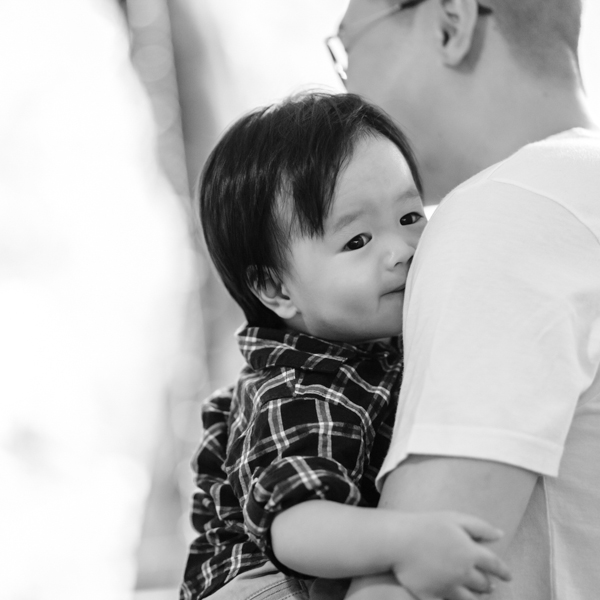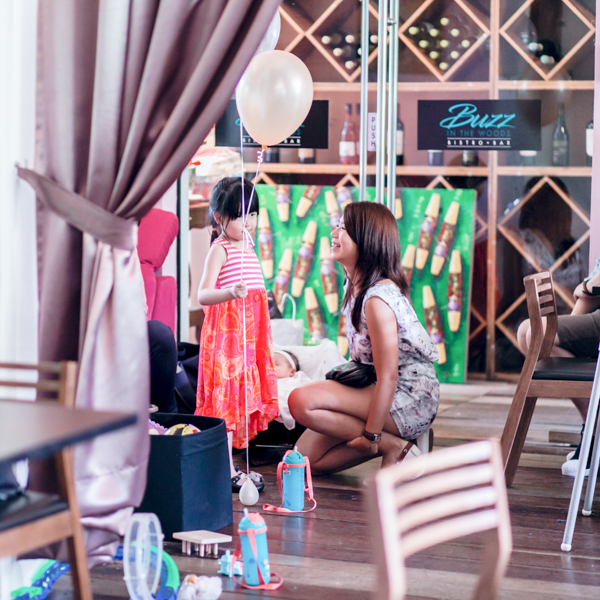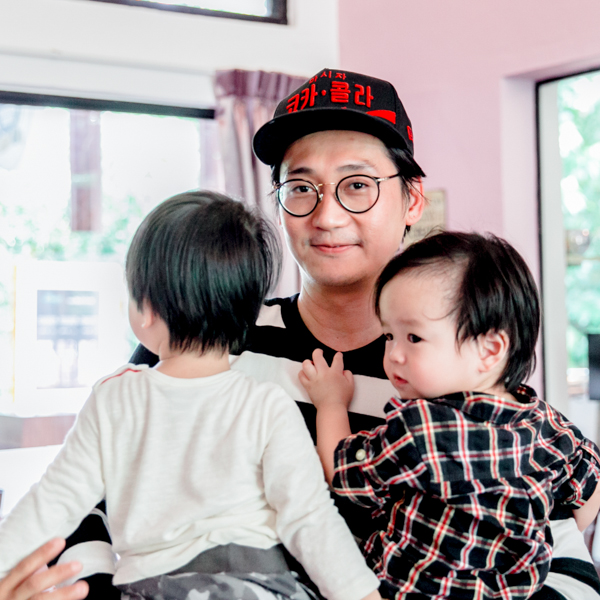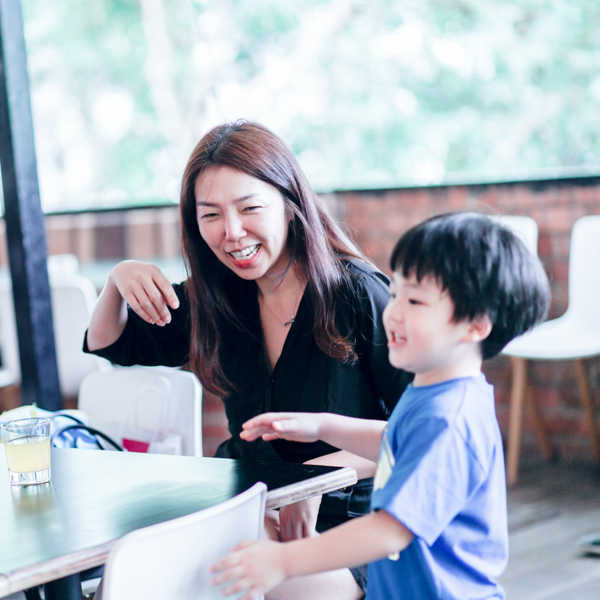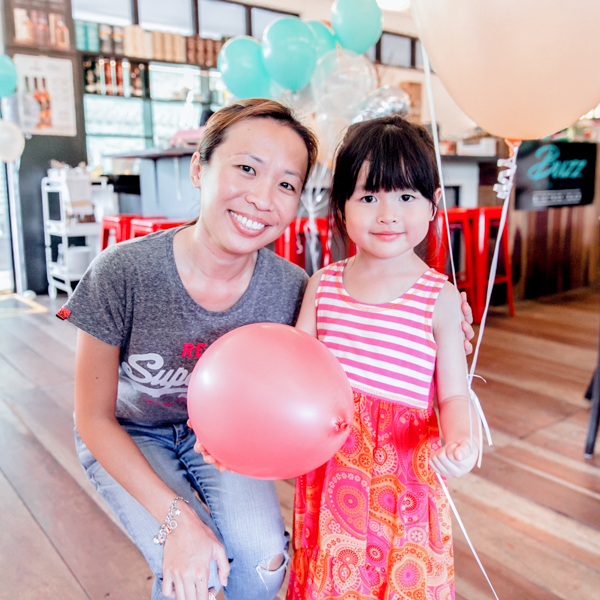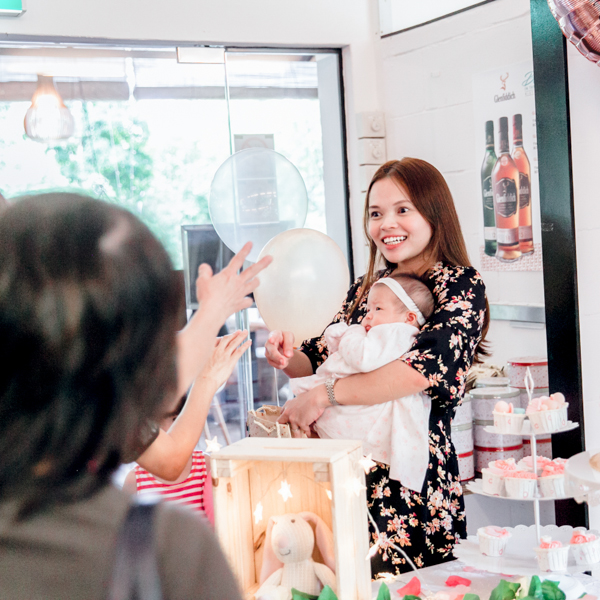 A big thank you to all our family and friends that came to bless Sarah and celebrate with us!
Sweetest Moments Review
I'm just glad the photographer took many photos of the desserts from Sweetest Moments before they were all polished off! I really like the petite sizing of the desserts as my guests got to sample more, as opposed to having huge sizes that make people feel guilty for indulging.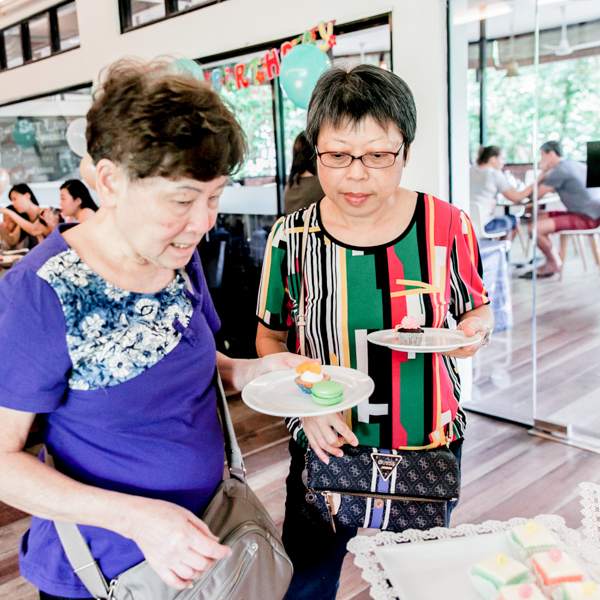 Even my aunts "gave face" and tried the desserts alright! And the kids had a field day wiping out the desserts, much to the chagrin of their parents.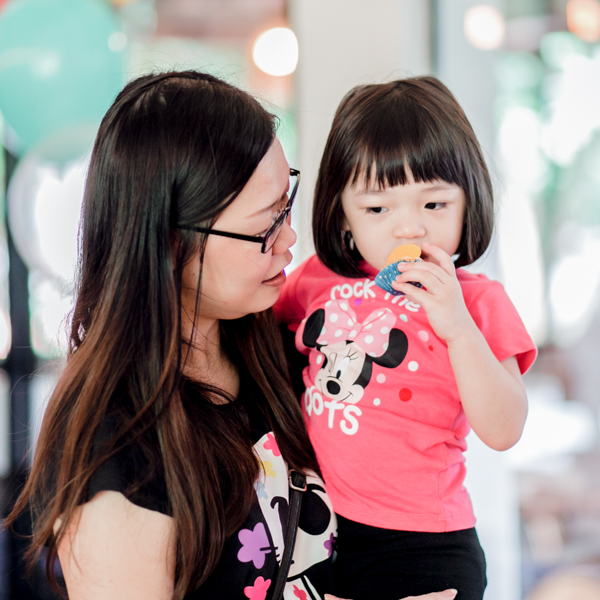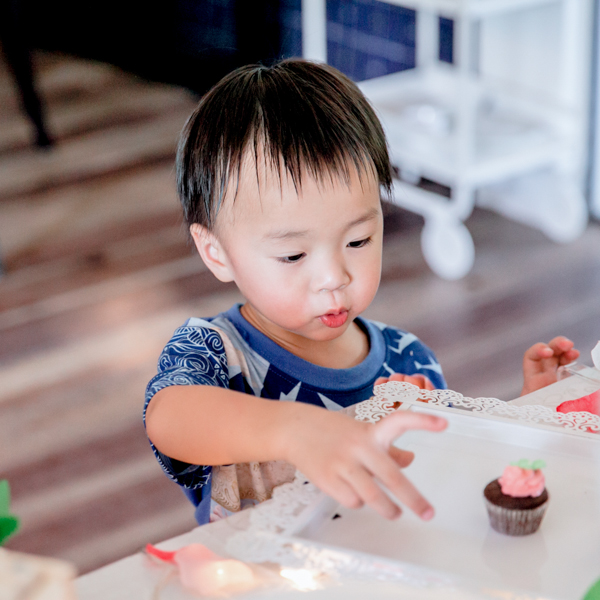 Our guests commented that the cupcakes and cakes were very moist and not too sweet. I have to agree! I guess that explains why the party wasn't even half-over, and almost all the desserts from Sweetest Moments were gone. We didn't even manage to get a photo of the insides of the cake! *my goodness* whatever happened to the diabetes campaign? Haha!
Well, judging by her tummy, I do suspect my firstborn, Lauren, had a little too much. But hey it's a party, so it's ok to let the little ones indulge a little.
So that's it for my DIY dessert table and my Sweetest Moments review! If you're thinking of DIY-ing a dessert table, just do it! But do make sure you choose a reliable bakery to deliver your delicious treats and desserts, cos what's a party if your desserts don't arrive in time?
My verdict? Use a tried-and-test bakery, visit their website: www.sweetestmoments.com.sg
Alrighteys! Hope you enjoyed the photos and special thanks to my awesome bro & sis-in-law, Linky & Zhimin, my fantabulous Dad & Linda, as well as my BFF Grace, who came early to help set up the dessert table!
Till our next party…
Seeya later, alligator!
#sweetestmoments #desserttable #bakery #cupcakes #sponsored