Home Page › BB Joshie › Hospitalization Stay at TMC for Joshie's Bronchiolitis
Shortly after we came back from our Bali trip, Joshie had a brief hospitalization stay at Thomson Medical Centre (TMC), being diagnosed with Acute Bronchiolitis.
It started on a Tuesday afternoon, when Joshie woke up from his afternoon nap at daycare, and was running a high fever. I went to pick him up and he was indeed burning and fussing much. Usually I'm quite chill about fevers, but this time round, I was a little concerned. Just that morning, I received an email from Lauren's kindergarten, informing us that a student from her class had been diagnosed with H1N1.
Ya I know. H1N1! Those 4 syllables made my skin crawl! Didn't many people die from it when it first broke out? Anyway!
So we got home and he was playing with his toys. And then he puked. In the evening, he refused to eat his dinner and drank half his milk. The next morning, he drank half his milk again and vomited after 1 hour. I gave him some water afterwards and within 2 hours, he vomited out the water. He only had 1 wet diaper the whole morning, so we decided to bring him to TMC in the late afternoon on Wednesday.
Generally, if a child is above 1 year and is down with fever, even high fever, as long as he's eating, drinking, playing, active and sleeping, there is not much of an issue. Just sponge and keep the fever from spiking too quickly as a quick spike in temperature may lead to febrile seizures. You can find out more about when to go to the hospital.
For Joshie, we had 2 main concerns. One, he wasn't able to keep his liquids down and he wasn't eating. We were afraid he would be dehydrated. Two, the Influenza A (H1N1) risk that Lauren may have brought it home, even though she did not have any symptoms.
So with that in mind, we had to decide whether to head to KKH or Thomson Medical Centre. Previously when Lauren was down with Roseola and had high fever for several days, we went to KKH but were very disturbed by the long waiting time. So this time round, we headed off to TMC. We didn't consider going to our paed's clinic since we knew Joshie's case would require X-rays and tests to determine the cause of his severe coughing, vomiting, lack of appetite and high fever, and the clinic would not be able to do that immediately.
The Hospitalization Stay
X-rays and blood tests were done, and thank God, it wasn't H1N1! It was just a case of acute bronchiolitis. Even then, Joshie was immediately warded and was supposed to have a hospitalization stay of about 5 days. Yikes, it was our first hospitalization stay with our child and we weren't quite prepared for it. Due to his vomiting, Joshie had to be on drip.
I was waiting outside the procedure room while they secured the drip on Joshie and I cried. He was screaming and wailing, and his desperate cries shattered my insides. I still feel the pain when I try to recall what happened. Wouldn't wish this on my worst enemies.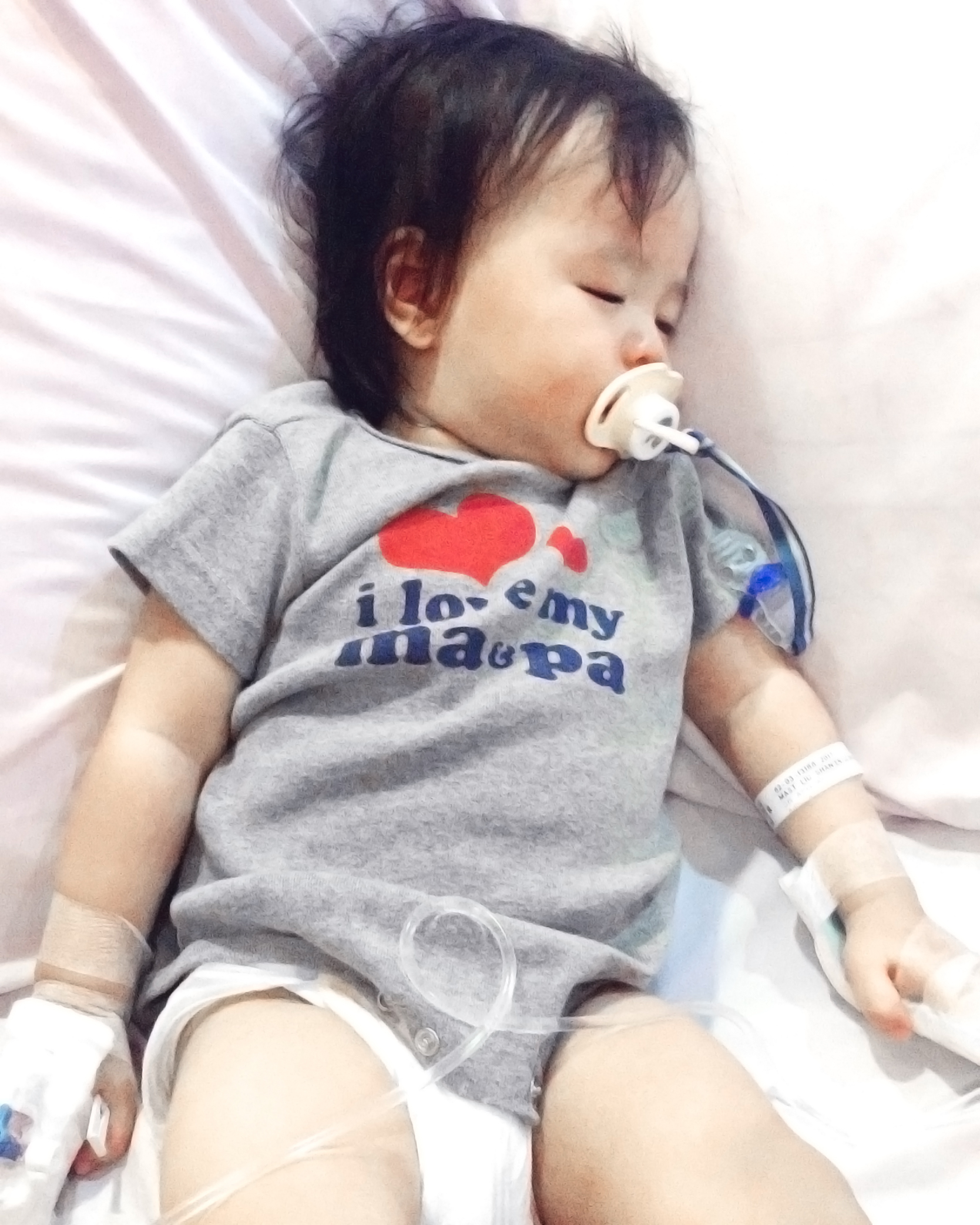 And then, we were told there were no more single rooms. So we roomed in with another child's family and it was just so difficult. Rayray stayed overnight with Joshie and didn't manage to sleep because Joshie couldn't sleep unless he was on Rayray's bosom. Not to mention the frequent administering of medication and 4-hourly nebulizing sessions that totally freaked Joshie out. How to sleep you tell me? How to recover like that?
Long story short, thankfully Joshie stopped vomiting so we could remove the drip on Thursday evening, after just 1 night. On Thursday itself, Joshie finished all his milk and was eating more, not much but at least he was eating. He was pretty chirpy as well. And so despite the doctor's recommendation to stay for at least 5 days, we decided to discharge him on Friday morning. So that meant Joshie's hospitalization stay was only 3 days and 2 nights.
Of course the doctor was telling us Joshie's not ready to go home but we couldn't take another day in the hospital. It was just so difficult to stay on the bed with Joshie doing absolutely nothing at all and him being so restless cos he's feeling much better and just wants to play! And if that's the case, he should be well enough to go home isn't it!
So since Rayray stayed the second night, I gave written instructions to discharge Joshie the next morning. And if the doctor disagreed, we would be willing to sign the At Own Risk (AOR) form. We were confident that Joshie was well and of course, the mighty hand of our Lord Jesus will keep him.
Turns out, we didn't have to sign the AOR form although the doctor mentioned she'd indicate it's our decision to discharge him early. That's totally fine with us. We were just so happy to bring Joshie home. And he was soooo happy to be home! As long as he gets to ka-jiao his jiejie!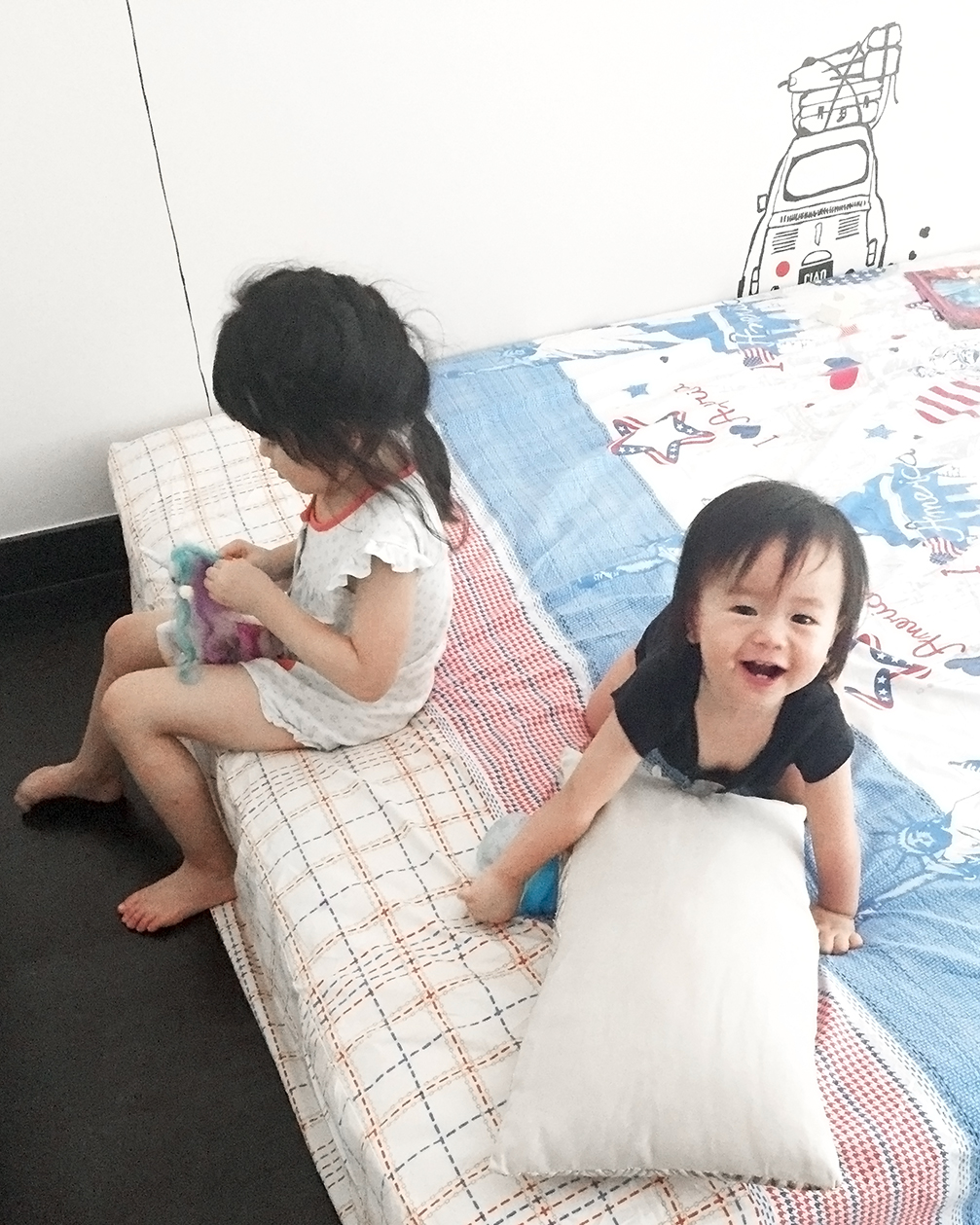 And for fellow mummies that are interested to know the bill and costs of Joshie's hospitalization stay, here's a look at the bills. Do note that our bill is lower than the estimated bill size provided by TMC because we discharged Joshie early.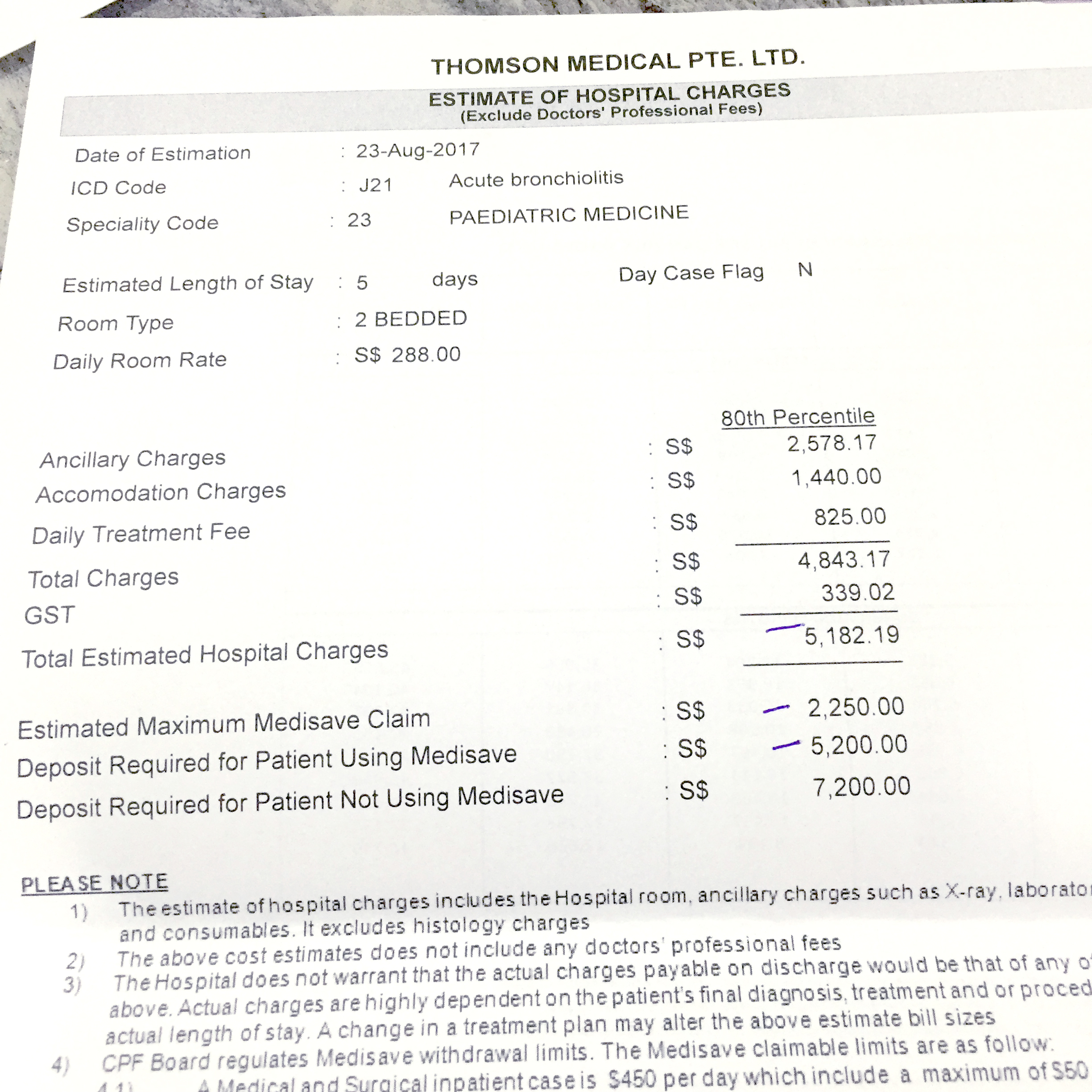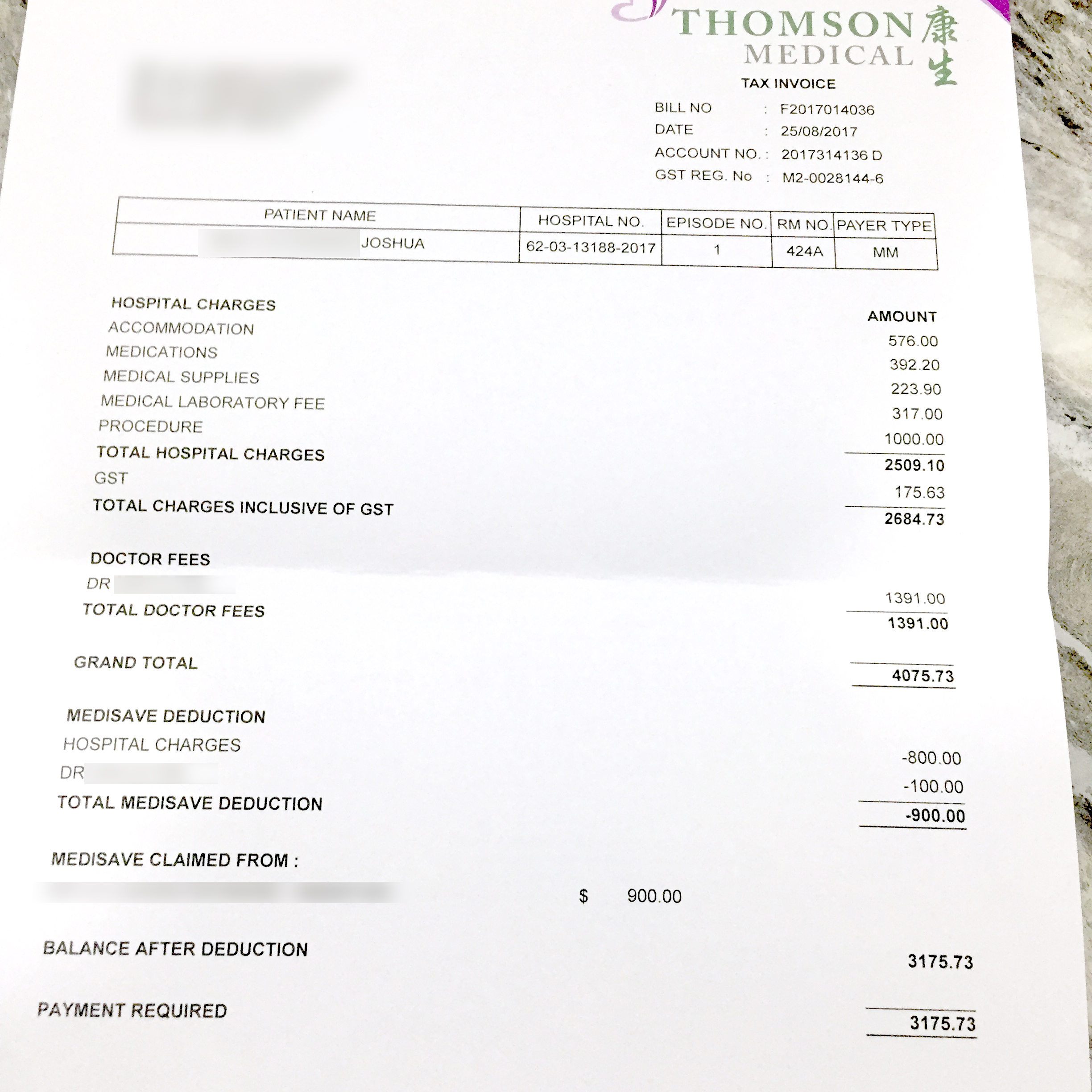 The bill came up to $4075. Medisave deduction was $900. So remaining payable was $3175.
Just to share, we are all covered with private H&S shield insurance plans with riders. For Joshie, he's covered under Aviva's Myshield and so after deducting from Rayray's medisave, the remaining amount of $3175 was fully covered by the insurance. In fact, when we registered at the TMC counter, we didn't have to place any deposit at all. We just had to sign a letter of guarantee. When we discharged Joshie, we didn't have to pay a single cent as well. We could also claim all the outpatient charges, about $400 in total, after the hospitalization stay.
This isn't the first case of hospitalization in our family, as I had a breast lumps removal day surgery at Mount Elizabeth hospital many years ago. Back then, the bill came up to $9k+ and that was easily 10 years ago. Thankfully, I was and still am covered under NTUC's Enhanced IncomeShield, so I didn't pay a single cent as well. My dad had a triple bypass surgery in 2013, where he stayed in SGH's A ward. The bill was 25k+, fully covered. Praise the Lord.
I just can't emphasize how important it is to have complete hospitalization insurance coverage here in Singapore. And erm, I'm not being paid to say this but coming to think of it. I should be!
Having said all these, our health is priceless. And may we continue to give thanks to our Lord Jesus for keeping us!